News — Brew room
Posted by Alexander Bocko on
Along with all the construction work being carried out during the reconstruction of the building, a fairly good volume of construction debris has accumulated. We sorted this debris and placed it to the part of the cellar, which must be filled up. Before that, we have concreted the windows in the cellar. At the top of the debris, we placed a layer of crushed stone, which will be later compacted, and a base plate will be constructed above it. Before concreting the base plate, however, we still must place gullies for stainless steel box drains into their positions and install...
Posted by Alexander Bocko on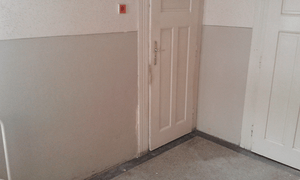 Reconstruction of the family house which should give shelter to the brewery has begun. The first phase of reconstruction work is focused on the room which originally served as kitchen. After reconstruction the brewing stand will be housed in this room. Removal of old oil paint which covered kitchen walls approximately as high as 1.5 meters (5 feet) above floor turned out to be the real challenge. Removal of original wall cladding was equally difficult. The work of tilers was apparently honest.